[et_pb_section bb_built="1″][et_pb_row][et_pb_column type="4_4″][et_pb_text _builder_version="3.0.91″ background_layout="light"]
To say that Will Allen was the Godfather of Urban Farming is pretty appropriate. Awarding him that title wasn't my idea, but it certainly fits his work well. Many an urban farm startup – nonprofit or otherwise – looked up to the man, his organization, and his views. You might say that this instigator of the Good Food Revolution inspired millions, perhaps billions, worldwide. That he altered the course of many lives, neighborhoods, and cities.
Learning that the founder of Milwaukee's Growing Power decided to retire wasn't surprising. He's been a whirlwind of urban farming action and guidance for over 20 years. And his programs have done so much good for the communities they operated in. Still, at some point, a person needs to slow down and take as little time to smell the roses. His successor has been in place for about a year, in training for taking over… someday. But it arrived abruptly this November.
Which is where the shocking part of this recent event unfolds. Growing Power suddenly shut down for reorganization, the nonprofit is seriously in debt.
How is that possible? It's huge, with multi-layered good works entrenched in two major cities. Their army of employees and volunteers produce over 1 million pounds of fresh food annually. At the height of its glory, the urban farming venture employed 150 between Chicago and Milwaukee. But the payroll has decreased considerably in recent years.
What happened here? How can an organizations' commitment that is this successful fail? News reports offer no insight beyond Growing Power having debt judgments that tally up to half a million dollars. The urban farming operation reported annual deficits since at least 2012… some years it exceeded $2 million. Allen's home farm also appears in financial trouble.
A week after this report ran in the Milwaukee Journal Sentinel, Growing Power was no more. The board moved to dissolve it, and Will Allen's retirement was official. There will still be urban farming on the same property in Milwaukee, but as a training ground for military veterans as an arm of the Green Veterans organization.
And Chicago? Growing Power's urban farming sites there are now being run by the Urban Growers Collective.
What a sad ending to such an inspiring organization, though it is heartening to know that others will continue growing food and empowering people. And I could leave it at that, but there's an observation that I'd like to share.
I believe I know the gist of what happened here. BizTimes hints at the inefficiency and excessive costs in their coverage of the new Green Veterans program. Its director, Brian Sales, stressing their organization will have a lean operating staff. And Nonprofit Quarterly discusses founder vision and shared leadership not meshing… Too many hands trying to steer one ship.
Urban farms and social nonprofits can grow too big to succeed.
And those in existence since 20 or more years ago find themselves facing a strange new world today. We've noticed this happening with social nonprofit farms in the UK of late. Grants and donations aren't as readily available as they were just a few years ago. Some are barely hanging on. Others faded away.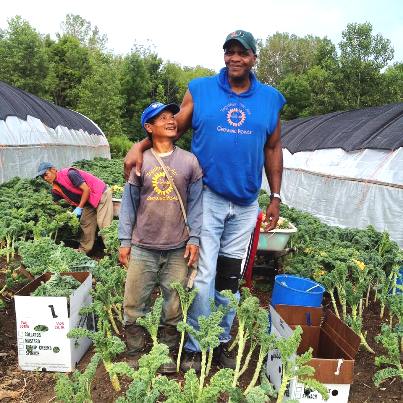 It looks like this is also true on this side of the Atlantic. The demand for neighborhood remediation, at risk guidance and skills training, healthy food, and local employment is still huge. But you can't operate above current means. And none of the UK nonprofit farms have ever been as big an operation as Growing Power.
But in the US, we do things in a big way. Nonprofits must maintain a highly-professional office and staff, they need full-time grant writers to handle a continual stream of properly documented applications. It's the only way to channel adequate funding to cover payroll, operational costs, materials, and supplies.
At least, in the old world.
Going forward, the successful urban farming nonprofit is a lean, mean enterprise. It is small, keeping its focus on its local community. The new nonprofit farm goes out of its way to become self-sufficient and sustainable. It's creative. Donations and gifts are welcome, but not totally relied on. Crowdfunding, events, unique workshops, or recycling programs generate their operating income. It's like any other business, just organized so all proceeds are used to keep it alive.
Look at what The Urban Farming Guys have accomplished in Kansas City. They're an excellent example of such a lean, mean nonprofit farm in the US.
Only 9 years old, operating on an impossibly limited budget, and yet, UFG is very successful. Then there's Paddington Trust Farm in Glastonbury, UK who accomplishes filling in funding gaps with a scrap metal program fueled by an environmental responsibility campaign. While small and in a rural spot, this social nonprofit farm has great attractions. It's also successful and in operation for 30 years.
Thank you for the inspiration, Will Allen. You are a giant among men whose vision will not soon be forgotten. Many a commercial and nonprofit urban farming startup the world over exists today because of you.
More Info/Sources:
Images courtesy of Growing Power via Facebook.
[/et_pb_text][/et_pb_column][/et_pb_row][/et_pb_section]