Some initiatives deserve to be applauded, and Atlanta's giant food forest is one of them. The seven-acre plot is the largest such space in all of the United States! The project aims to improve food security for the local community by growing fresh fruit, herbs, and nuts. 
What exactly is a food forest?
What makes this food forest any different from a typical farm? 
A food forest is similar in concept to a natural forest; only everything in it is edible. 
According to Permaculture News, there are seven layers in a food forest:
Canopy (large fruit and nut trees)

Low Tree Layer (dwarf fruit trees)

Shrub Layer (currants and berries)

Herbaceous Layer

Rhizosphere (root crops)

Soil Surface (ground cover crops)

Vertical Layer (climbers and vines)
Much like a forest full of trees, food forests grow without much human intervention, no mowing or weeding, and no spraying with harmful chemicals. 
These gardens are slower to build, but they're permanent, and they make lovely homes for pollinators and other animals. With little disturbance to the soil, fungi can thrive, and as a result, the food crops do too.
Urban Food Forest at Browns Mill
Atlanta's food forest is located in a spot formerly known as a food desert, which is a low-income urban area in which buying affordable, nutritious food is challenging.
According to the USDA, one-third of the population in the Lakewood Browns-Mill community lives below the poverty line, and so deciding to grow the forest in this location is an excellent choice. 
The project aims to educate and bring the community together, but it's also in line with the city's vision of putting 85% of its residents within a half-mile of fresh food by 2021. 
The property used to be a working farm, and the former owners used to leave fresh food on fence posts for neighbors to take. The food forest hopes to continue with that generous spirit and ensure the surrounding community has access to nutrient-dense fruits, vegetables, herbs, and nuts.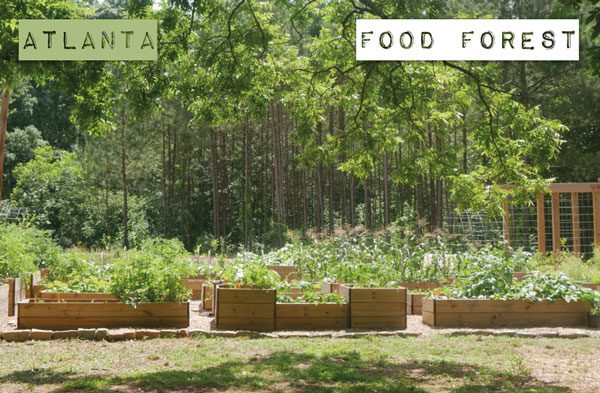 There were 2,200 fruit and nut trees, shrubs and seedlings planted last year. 
The team behind the food forest says each fruit tree is expected to produce 200-400 pounds of food, but they need between three and five years to mature. Harvesting can only take place once the trees have fully grown. 
When harvest time arrives, residents will be able to walk through the forest and pick the food for free! 
In addition to food crops, the property will also feature walking trails, stream-side visiting areas, and a community garden. 
The Urban Food Forest at Browns Mill is an inspiration and should serve as a model to other cities around the world.